USA Service Dog Registration
Our In Depth Review
The USA Service Dog Registration is a registry site where users can use to register their dog as a service dog. As soon as you enter the site, users will see the different pages that are available on the site, this offers plenty of information to the visitors of the site. The first part of the website explains the 3 steps that it takes to register a service dog. The free registration from USA Service Dog Registration allows users to choose between service dog registration, emotional support dog registration or therapy dog registration.
The Process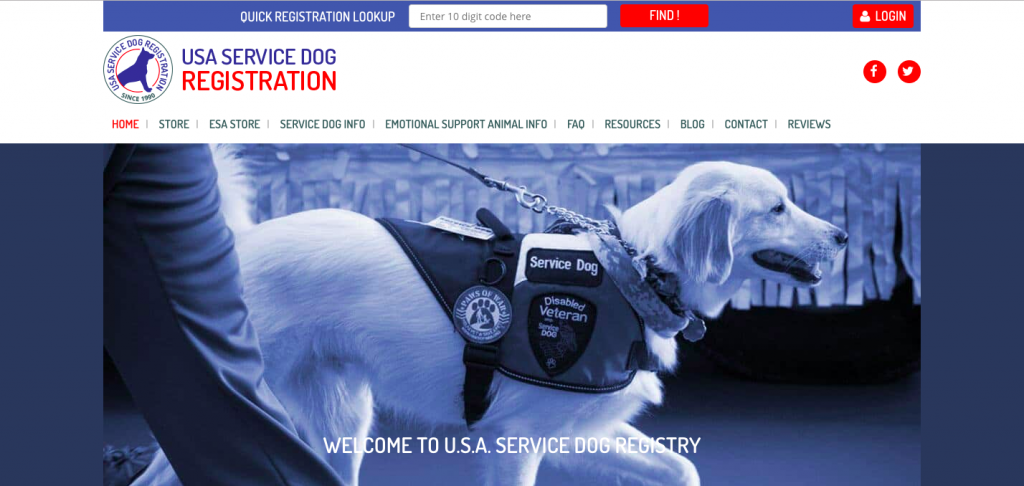 In order to get a ESA letter from USA Service Dog Registration you will need to go through tree steps:
Choose a plan
Talk to a therapist
Wait to get your letter in the mail
The process of getting your letter is a bit outdated compared to other sites where you put in most of your screening questions online as opposed to just waiting for the phone interview.
Cost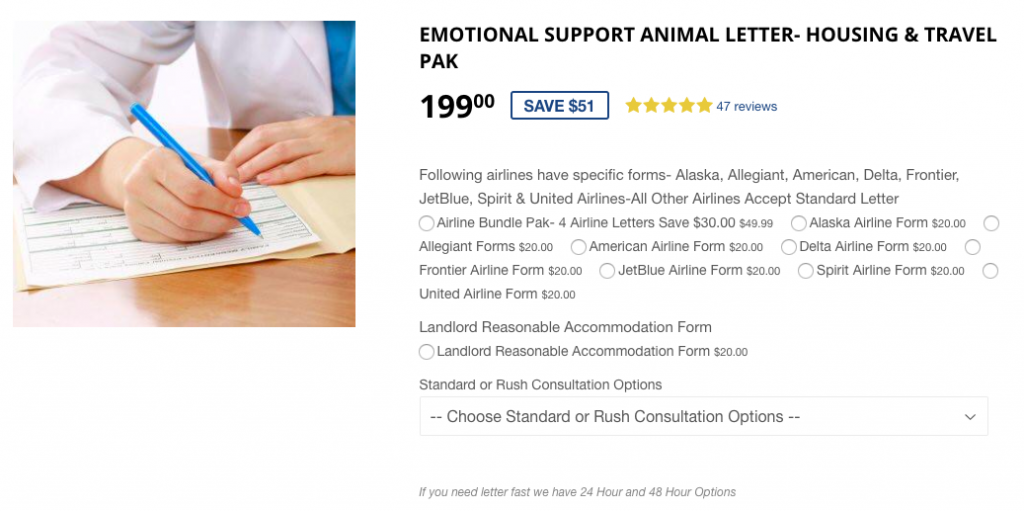 In order to get both the housing letter and the airplane letter you will need to get the $199 package. There are also some specific airline forms offered. These additional forms make the ESA letter very expensive and not very versatile. You should not have to purchase separate forms for each airline. Most ESA letter sites do not have options like these since the ESA letter should be valid on almost all airlines. Unfortunately, this seems like a marketing trick to get you to spend more money.
Legitimacy
Our users report that they received valid ESA letters after completing the process with USA Service Dog Registration. They have found the letters to be effective in both housing and flying situations.
Other Info On The Site
USA Service Dog Registration also provides lots of detailed information on their website about service dogs and emotional support dogs. Information includes the current service dog state laws, how to make your dog a service dog, laws for emotional support dogs as this is different to service dogs and how to get emotional support animal letters. There is also a lot of further resources provided by the USA Service Dog Registration which gives more information about specific requirements that need to be followed when you have a service dog or emotional support dog. The resources include information on airline requirements, service dog trainers, state laws and therapy dogs.
The website for USA Service Dog Registration is user-friendly and provides easy to read information about service dogs, emotional support dogs and therapy dogs and how to get a dog registered. There is contact information provided and the free form to register your dog is easy to fill out.
Tell Us About Your Experience