Our In Depth Review
US Service Animals is a company that allows you to register both service animals and emotional support animals. They are said to be "Founded by Lawyers who guarantee your letter meets the federal Fair Housing Act (FHA) requirements". In this review we go over the process of getting an ESA Letter, Price, Legitimacy and more.
The Process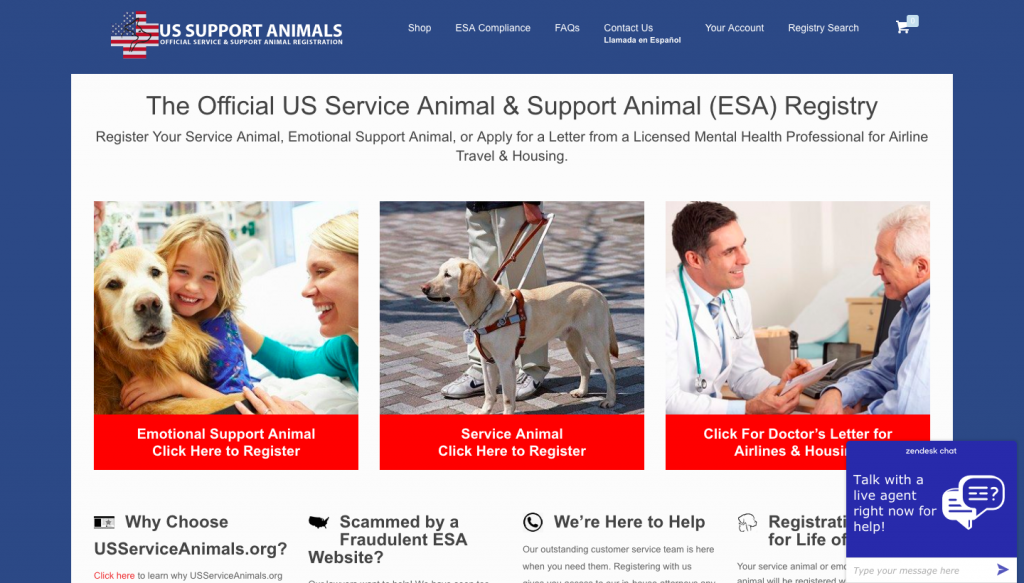 To get an official ESA Letter, it is important to navigate over to the "Click for Doctor's Letter" section of the site. The regular emotional support animal registration is for people who do not need the legal support that comes with getting an official evaluation. US Service Animals does not hide this fact if you select the regular emotional support animal registration. In fact, they encourage customers to get a doctor's evaluation risk free.

When you get to the ESA Letter registration page you will need to enter your contact information so that US Service Animals can schedule a consultation with a health care professional in your state. There is no upfront cost and you don't pay anything unless the mental health professional approves you.
Price
If you do get approved for an ESA Letter the price is $179. You can always see the cost of US Service Animal Products by looking at their Shop page. The $179 letter is valid for both housing and flying. This is a bit cheaper than most legitimate ESA letter providers who charge $199 for both letters.
Legitimacy
US Service Animals seems to take their legitimacy very seriously and make sure to comply with as many state and federal regulations as possible. According to the email I received during registration, their operation is said to be "S.P.O.D.A. (Society for the Prevention of Online Diagnostic Abuse) certified for strict adherence to the Code of Ethics and Conduct".
Based on our analysis and feedback that we have received from our users the US Service Animal ESA Letter is legit. They actually have a doctor from your state and evaluate your need and sign the letter. Having a real doctor as part of the process is the most important part of a legitimate ESA Letter.
Final Thoughts
US Service Animals is one of our favorite ESA Letter providers because of how committed they are to legitimacy and following the law. If you have problems with your ESA Letter they will try to get involved and figure out any problems with legality. The pricing is also on par or below some other legitimate ESA Letter providers.
Tell Us About Your Experience