Our In-Depth Review
Therapy Pet checks most of the boxes when it comes to providing a reputable ESA letter, but their service has a lot of room for improvement. The process for receiving the ESA letter seems legitimate, but it is hard to find answers to important questions on their website, including the type of mental health professional that will be doing the assessment and how much the ESA letter costs.
Also, they make it seem as if almost everyone who applies is accepted – which is not what you want when seeking out the best ESA letter provider. The home page displays "100% Free Qualification" and "Getting an ESA letter has never been easier," which gives the impression they might not be too accepting.
The process involved mentions a conversation with a mental health professional, but it is hard to know for sure if they are trustworthy. Due to the lack of useful, specific information on their website and inability to be transparent about the process, we recommend you err on the side of caution and find another ESA letter provider.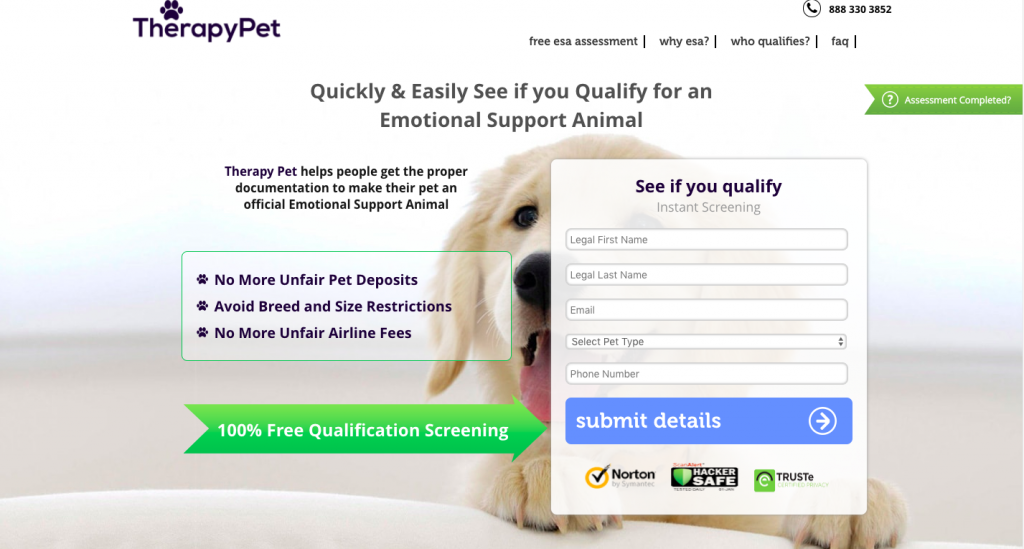 The Process
Therapy Pet lays out a four-step process for receiving an ESA letter, which is easy to locate towards the bottom of their home page. To get started, simply fill out the quick form on the homepage, which asks basic questions about your name, email, pet type and phone number.
The next step after initiating the process is to complete a short five-minute questionnaire, which asks questions about issues you are having with mental health and why you believe you can benefit from an emotional support animal. After the free and easy online and assessment, the website directs you to the payment page and allows you to choose the package that is right for you.
You are then contacted by one of the Therapy Pet mental health professionals, who discusses the details of the ESA letter and asks questions to determine if you are in need of an emotional support animal. Therapy Pet then sends the ESA letter twenty-four hours following the interview with a therapist.
Legitimacy
The legitimacy of Therapy Pet's ESA letter remains somewhat in questions as there are many unanswered questions, although they do provide details on the exact mental health professional conducting the assessment. In other words, the process suggests that a therapist is involved, which should provide legitimacy to the ESA letter, but it does not specify the type of mental health professional that is involved and the method in which they reach out during the process.
Therapy Pet also seems to give the indication that approval is almost certain, which also creates an area of concern as to whether or not you are right for an ESA letter can only properly be determined during an evaluation with a mental health professional.
Many apartment complexes and airlines might accept an ESA letter provided by Therapy Pet, but it might be best to go with a more trusted source such as U.S. Service Animals to ensure the ESA letter is legitimate.
Cost
The website does not specify the price of any of their packages, which is a red flag that it is either more expensive than average or not a trustworthy source for an ESA letter. However, the website does mention the three types of ESA letters they offer, which includes a Travel Letter, Housing Letter and both a Travel and Housing Letter.
To learn more information about the cost of an ESA letter from Therapy Pet, you must fill out the form on their homepage. The typical price ranges anywhere from $69 to $200 depending on the type.
Customer Service
Therapy Pet does seem to offer exceptional customer service, and there are several different ways to get in contact with them. They have a number listed at the very top of each web page – which is a huge advantage – and they an email address and office hours listed on the about us page.
Additionally, they have useful resources on their website, including a detailed frequently asked questions page, information on who qualifies for an ESA letter and more. Although there are still questions about their service and the legitimacy of their service, you might be able to find appropriate answers by giving them a call during office hours or sending an email.
If they respond to your request for more information in a timely manner and give detailed responses to your questions and concerns, then you should be able to trust them as well as the ESA letter they are able to provide. However, if there is still doubt that remains, consider finding a more trustworthy website for your ESA letter.
Website Interface
Therapy Pet has an easy to navigate the website, and they make it easy to start the application process. Upon entering into the home page, you are shown a form to fill out to start the process, and you can quickly scroll down to see more useful information such as a step-by-step process on how the applications for an ESA letter work.
There are also multiple other pages that provide detailed insights about emotional support animals and who is a good candidate for one, and they also have a frequently asked questions page to help answer any questions or concerns you might have.
The only drawback to the website interface is that it does not discuss in-depth how they conduct the interviews with a mental health professional, and they do not list any prices on their website until the application process begins.
Final Thoughts
We recommend considering other options for an ESA letter as there are still some unanswered questions that are concerning with Therapy Pet. If you are interested in Therapy Pet as the provider of your ESA letter, then consider calling or emailing them first to find out more about the process. They do a lot well – such as making it easy to start the application process and customer service – but they might not provide a trustworthy ESA letter that is universally accepted.