Our In-Depth Review
ESA Registration of America is one of the most trusted ESA letter providers in the U.S., and they market themselves as the official ESA registration of America. Subsequently, you can trust purchasing an ESA letter from them and know that it should keep you and your ESA from being discriminated against when flying or renting a place to live.
Perhaps the best part about ESA Registration of America is that they offer a video interview with a licensed mental health professional, so you know for certain the documentation you receive is legitimate. They also have an easy application process, and most are able to find all the information they need right on their home page.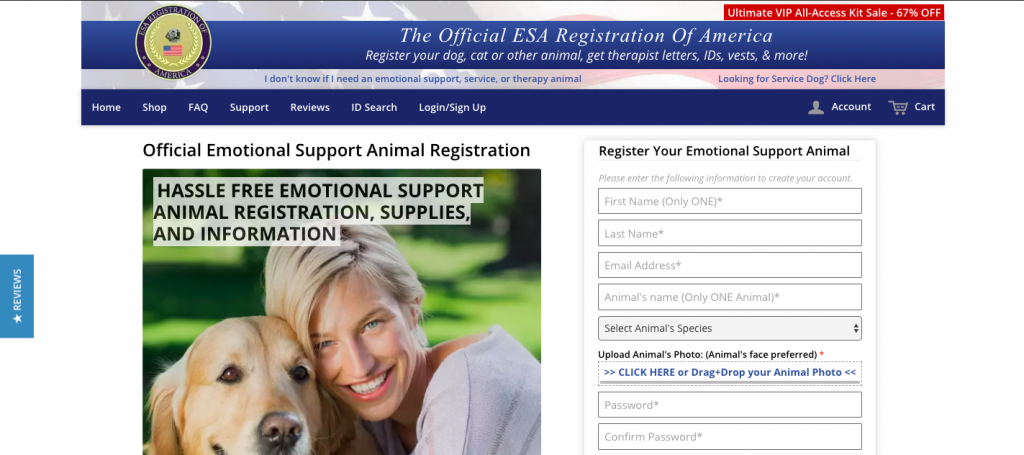 Overall, ESA Registration of America is highly reputable, and their ESA letters are accepted and protected by the Fair Housing Act and Air Carrier Access Act. The only drawback, however, is that the process might take longer than the average time and it is hard for some to get in contact with them when questions arise.
The one problem with their site is that they predominately advertise their certificates where you do not speak to a mental health professional. This is misleading and does not qualify as a legitimate ESA Letter if you go with one of those options.
The Process
The process is fairly straightforward and very clearly laid out on their website. ESA Registration of America breaks the application process down into five different steps, which might take slightly longer than the average application time.
The first step in the process is to choose from the list of ESA letters they offer, which includes one for travel, one for housing and one for both. You then are asked to purchase the ESA letter and prompted to fill out a short online assessment for the mental health professional to review.
After the online assessment, you schedule a time to have a video conference call with your mental health therapist, who can then interview you and evaluate your need for an emotional support animal. Those who are approved for an ESA letter then have the documentation sent to them within a few days following the interview.
Legitimacy
ESA Registration of America provides a legitimate ESA letter to those who are approved. The process might be more extensive than many other websites who offer ESA letters, but you can trust that it is not a scam and your ESA letter is taken seriously by landlords, airlines and more.
The ESA letter provided should grant your emotional support animal access on most flights with you, ensure you are not turned down for housing or charged pet fees and gives you various other privileges that are protected under the Fair Housing Act and Air Carrier Access Act.
While a video conference call with a mental health professional might seem scary, it is the best way to ensure your ESA letter is legitimate and protects you from discrimination. CHoosing ESA Registration of America might be an appropriate choice for anyone who does not mind going through a more extensive process and waiting longer for their documentation.
Cost
The pricing is not very simple to find on the ESA Registration of America website. They do a good job of displaying the cost of the ESA letter, but it is somewhat ambiguous as to which one is most appropriate to purchase.
Essentially, they provide three different types of ESA letters, which includes one that is specifically for housing, one specifically for airline travel and one that protects you for both housing and travel. The price ranges from $130 to $150 dollars depending on the exact package chosen. ESA Registration of America also charges for shipping, which ranges from $10 to $50 depending on the shipping method chosen.
Customer Service
One of the very few drawbacks to ESA Registration of America is their customer service, which leaves something to be desired. They have a fairly detailed frequently asked questions section that consists of eighteen questions and answers and also allows you to contact them through a message on their website during business hours, but they do not list a phone number on their website. They do, however, give a fair refund policy in the event something is wrong with your ESA letter within several months after purchase.
Fortunately, the process for application is incredibly simple, and the website guides you through each step of the process. They also list detailed customer reviews on their website, which includes more than 1,400 reviews, most of which are positive.
If you know what you are doing and understand the step-by-step process for applying and receiving an ESA letter, then you should not have an issue. However, if you need to reach out with a question, then it might require waiting a day or two for a response.
Website Interface
The website for ESA Registration of America is very easy to navigate, and they make it incredibly easy to start the application process by providing the initial form at the top of the home page. The only drawback is that their products are somewhat confusing, and it is hard to distinguish the type of ESA letter you should purchase. They offer an ultimate VIP All Access Kit, a Lifetime VIP Kit and a Professional ESA Certification Kit, all of which seem similar. They also offer a separate ESA Evaluation Letter.
With that said, they have a lot of useful information on their website, and the product descriptions are in-depth enough to determine the differences and choose the appropriate one. They do have a support team that is able to answer any questions you have or roadblocks you face along the way, but they do not have a phone number listed so you might be required to wait for a reply.
Final Thoughts
We recommend ESA Registration America and find it to be a legitimate provider of ESA letters as the process is detailed and involves licensed mental health professionals. However, the process of receiving your ESA letter likely takes longer than it might with other providers such as U.S. Service Animals as they require a video conference call with a licensed mental health professional, so it may not be the most ideal solution for individuals with a more immediate need for an emotional support animal.