Our In-Depth Review
ESA Doctors is a transparent, reputable source for ESA letters, and they most provide fairly legitimate ESA letters with an official recommendation from a mental health professional to those who are in need of an emotional support animal. ESA Doctors has a simple three-step application and review process, which involves filling out a questionnaire and an interview with a mental health professional.
There is a lot to like about ESA Doctors, and they do a good job overall in providing assistance to those seeking an ESA letter for mental health complications. Perhaps the best part about ESA Doctors is the ease of navigation on their website, making it clear how to apply and how much the ESA letter costs.
Overall, ESA Doctors is reputable and legitimate, and receiving an ESA letter from them should allow you to protect yourself and your ESA against housing discrimination and allow you to travel with your registered pet on most airlines. However, the process does not involve a phone call, so the screening process might not be as in-depth.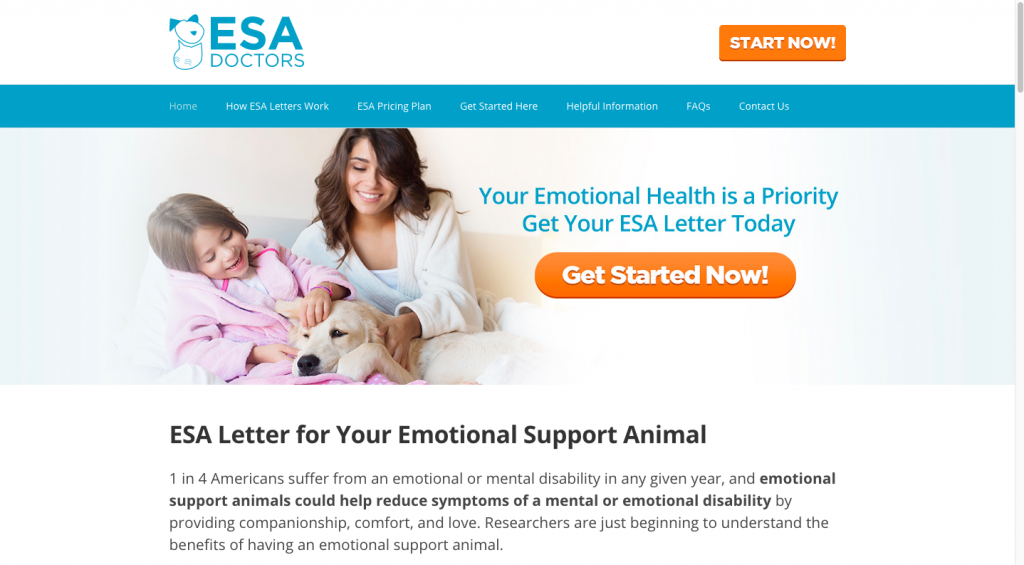 The Process
ESA Doctors makes it easy to gain access to an ESA letter, which is one of their main advantages for choosing them. The first step in the process is to fill out an online exam that is found on their website. The entire exam takes approximately fifteen minutes. The questionnaire is necessary for the mental health professionals at ESA Doctors to properly evaluate your need for an ESA letter.
After completing the online exam, you are then prompted to fill out your payment information before the application is reviewed by a licensed mental health professional. Once the payment process is complete, the application for an ESA letter goes under extensive review, and a mental health professional might reach out to you during the process. The review process typically takes several days to complete, so remain patient if you do not hear back right away.
If you are approved for an ESA letter, then the documentation will be sent to you within two to five days.
Legitimacy
ESA Doctors provides a legitimate ESA letter to you upon approval, and you should not have any issues using it to allow your ESA access on flights and in rental properties. Of course, the exact limitations are dependent on the type of emotional support animal you have
One of the only drawbacks to choosing ESA Doctors is that the payment must be submitted before the review process takes place, which means if you are turned down for an emotional support animal you do not get the money back. Also, their website does not mention a phone call with a mental health professional as being part of the process, which leaves some doubt as to the legitimacy of the ESA letter that is provided.
With that said, the application process does involve an evaluation of your answers to questions regarding your mental health by a mental health professional, so there is little reason to doubt its legitimacy. In fact, many who fear a phone or in-person interview with a mental health professional might prefer ESA Doctors.
Cost
The pricing is straightforward and easy to find on their website, and they have a tab on the menu that brings you right to the list of packages available to purchase.
The least expensive option is referred to as the "Travel Plan" – which costs $149 – and provides documentation for carrying an ESA along with you during travel, but it does not include housing accommodations. The second option – which costs $159 – is the "Housing Plan" and only includes an ESA letter for housing and not for travel. For individuals who want an ESA letter for both travel and housing, you can purchase a "Combo Plan" for $189. Also worth noting, each plan expires and must be renewed after one year.
Customer Service
ESA Doctors provide you with all the assistance you could ever need throughout the ESA letter application process, and their ability to answer questions is one of their biggest advantages. Each page of their website includes detailed information about the process, and they have an extensive FAQ page that includes detailed answers to nineteen frequently asked questions.
Once the process starts, they have a staff that is ready and able to help answer any questions and assist you through any roadblocks you face along the way.  All it takes to start the process is filling out a simple, quick online exam that asks questions drafted by a mental health professional in regard to your mental well-being.
Website Interface
The website interface is definitely an advantage of ESA Doctors, and it is incredibly user-friendly, responsive and provides all of the necessary information. You can find everything you need right on the home page and even start the ESA letter application process from the top of the home page.
The only drawback to the website is that it does not go into depth on what the application process is like after the initial written assessment is filled out and sent. The website mentions an interaction with a mental health professional, but it does not specify how the interaction takes place.
They do offer useful information in the form of a detailed frequently asked questions page and an updated blog that covers specific topics, but the ability to contact them is lacking as they do not list an email or phone number.
Final Thoughts
You should be able to trust an ESA letter from ESA Doctors, but it might be safer to go with another website such as U.S. Service Animals. Although ESA Doctors does everything by the book, they do not specify exactly how a mental health professional is involved in the process, which leaves some room for concern that the ESA letter provided might not be accepted in every instance. Unfortunately, they leave very few ways to get in contact with them to answer the remaining questions, which makes them seem even less trustworthy and reliable as a legitimate ESA letter provider.